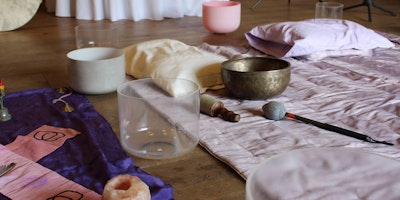 Terminó hace más de 1 año
20 de abr 09:00 - 23 de abr 16:00
Experience for yourself the Healing Power of Sounds!
Learn to help yourself plus your family and friends with Healing Sounds.
This course leads to our Level 1 Foundation Certificate in Sound Healing.
You can then progress onto our Level 2 Practitioner Diploma in Integral Sound Healing.
A four day personalised journey that will incorporate your own healing experience of 'Presencing Intention with Love Vibrations' This is a powerful process that can help you deal effectively with a health, relationship or life challenge that you may be facing.
As part of this process we will: 
* Relax into present moment awareness
* Recognise any pain. illness or challenge that you're facing
* Resonate with the feelings and sensations in your body
* Release unhealthy patterns of pain, illness and distress
* Reform healthy patterns of ease, health and wellness
* Be Responsible – take action to help yourself
Course Content
4-Day Workshop Intensive with our associate teacher: Simone Meschnig
Day 1
Overview & Healing With Himalayan/Tibetan Singing Bowls
Day 2
Working With Crystal Singing Bowls & Tuning Forks in Sound Healing
Day 3
Drums and percussion for healing / Introduction to Gongs
Day 4
Voice Work for Health and Wellness
Bringing it all together to create your own sound healing toolbox to help yourself and others
PLUS
Access to our world-class online learning centre - so you can revise what we cover in the workshop and learn more!.  
This includes:
33 video tutorials
6 audio tracks
40 page Handbook
Workbook to guide your learning and development
PLUS
2 x live, interactive online teaching and group tutorials with Tony Nec, the Principal of the Sound Healing Academy
PLUS
1 x 30-minute personal coaching and mentoring session with your course tutor: Simone
PLUS 
Assessment of your workbook with personal feedback from your course tutor: Simone
PLUS
PDF Certificate: Level 1 Foundation Certificate in Sound Healing – upon successful completion of all 4-Days and the Workbook for the course
Course Fee:
4-day Workshop + Online Learning Centre + Coaching & Mentoring +Live Webinars + Assessment & Certificate: €365           
The course fee does not include accommodation or meals.  We are happy to provide details of local places to stay and eat.
For further information, please contact us:
Email: support@thesoundhealingacademy.com
Tel: + 44(0)1208 873 974
There are a limited number of places available, and this workshop is likely to sell out.
Secure your place to avoid being disappointed later. 
Book now with a 20% deposit: €73.
Thank you!