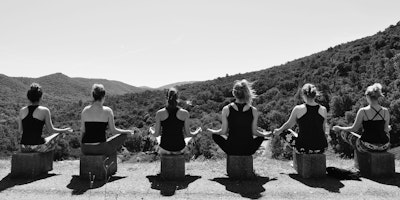 Terminó hace 4 meses
16 de jun 10:30 - 20 de jun 09:00
RELAXATION SUPPORT | YOGA | MEDITATION | HEALTHY VEGETERIAN MEALS | WALKS | SWIMMING
The 4 days on the retreat include
2 classes of yoga each day
1 meditation each day
All food and drink 
Activities
Wellbeing support
Travel is not included
Visit http://www.valueyourmind.com/yoga/wellness-yoga-retreats/ for more information
Each day of our relaxation yoga retreats start with a class of energising & dynamic yoga  flow followed by a freshly prepared, healthy breakfast. You are then invited to join us in exploring what the local area has to offer, including beautiful scenic walks and visits to the local villages and towns. Lunch is usually then had back at the villa, full of lots of ingredients specifically chosen to calm the mood and cleanse the mind. The afternoon is free-time for you to do as you please, whether that's chill by the pool, get your nose stuck in a good book or go off and explore by yourself, returning back to the mat in time for your evening session of deep tension releasing restorative yoga. Supper will then be served before rounding the day off with half an hour of meditation or Yoga Nidra to get you ready for sleep. On one day you will also be invited to join our 'extra special' mindfulness workshop; details of this will be included in your welcome packs.