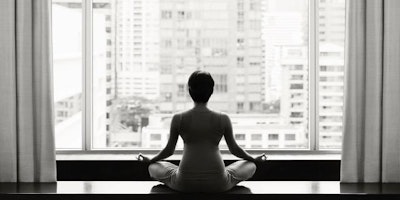 Terminó hace alrededor de 1 año
26 de abr 17:30 - 15 de nov 17:00
The #360me Series
with COMO Shambhala Urban Escape powered by PSYCHOLOGIES magazine
in association with Wellbeing Escapes
 Four immersive and transformative events, covering the Mind, Body, Spirit and Gut Health – each one a holistic 'tool' for your own powerful self-care kit
 £40 per event, or £110 for the rest of series
Modern life places a huge amount of strain on us all.
Long hours at work, polluted environments, unrelenting inboxes – days can feel like one long unrelenting juggle, leaving us depleted, overwhelmed, and less than healthy.
It is not enough to simply cope ­with what life throws at us – we all want to be able to thrive, enjoy and celebrate, while feeling strong, vital, radiant and deeply well, every single day.
The #360me Series aims to equip you with a back-up plan for busy life – a way to boost your wellbeing and resilience, reframe your outlook and invest in your own crucial self-care rituals.
 
The BODY tool
With Mind Body Bowl's Annie Clarke, Movement for Modern Life founder, Kat Farrants, and holistic expert and acupuncturist, Annee de Mamiel
Wednesday 26 April 2017 
7 - 9pm
Feel energised, strengthened and motivated with our BODY event – the second in our #360me Wellness Series
This lively and interactive event will take a deeper look into how our bodies naturally cleanse and heal themselves – looking at our energy meridians, Traditional Chinese Medicine, and seasonal changes, with expert, Annee de Mamiel. We will also be discussing the importance of moving more, and creating a liveable and enjoyable daily yoga practice, with Kat Farrants, founder of Movement for Modern Life. And strengthen that all-important mind-body connection with an energising meditation with Annie Clarke, founder of Mind Body Bowl.
The GUT tool
With leading nutritional therapist Eve Kalinik  and women's body expert, Hollie Grant
Wednesday 13th September 2017
7 - 8.30pm
 Come and enjoy a lively discussion about how to feed up your gut and boost your inner microbiome, for ultimate physical and emotional health. Fitness and women's health expert, Hollie Grant, will also share ways to boost gut health via exercise, posture and guilt-free nourishment. Bring your nutrition questions and tummy troubles, and we'll work through it all in a fun, educational and inspiring evening. 
 
The SPIRIT Tool
With sound and energy healer, Carly Grace, and holistic wellbeing expert, Akcelina Cvijetic
Wednesday 15th November 2017
7 - 8.30pm
 Come and find the light within and experience an evening of deepest inner nourishment, to restore the tired spirit and flagging body. Come and renew yourself with a healing sound bath, and learn about the self-care rituals that can really transform your outlook on life, with leading wellness expert, Akcelina Cvijetic. Celebrate your own inner wisdom, energise your cells, rest your mind and restore your spirit, to help you thrive in Winter. 
Tickets include healthy snacks, drinks, and a generous holistic kit bag, filled with natural beauty, whole food and wellness products, to support you as you make positive changes.
www.comohotels.com/metropolitanlondon
www.psychologies.co.uk
www.wellbeingescapes.com
PAST EVENTS:
The MIND Tool
With Jody Shield and Toby Maguire
Wednesday 15th February 2017
7 – 8.30pm
Come and clear the path to a brighter year, and find clarity and focus with a deep healing session, led by renowned energy worker, Jody Shield. Then maximise on your sense of purpose, with leading stress management expert, Toby Maguire, who will teach you a set of new techniques to enable you to put your resolutions into practice, in an immediately effective way.