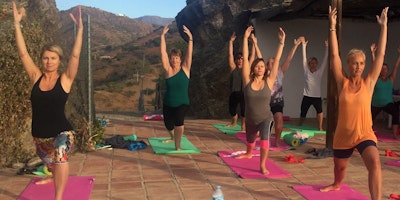 Terminó hace 9 meses
19 de abr 16:00 - 22 de abr 12:00

ABOUT THIS RETREAT
Still your mind, strengthen your body and open your heart at this luxurious and deeply nourishing 5 night yoga and mindfulness retreat in the mountains behind Malaga.  
There will be two yoga and mindfulness sessions per day along with plenty of time to relax by the pool or enjoy excursions to local villages and beaches.  No decisions to make, nothing to navigate, no looking for parking spaces or waiting for buses, nothing to analyse or sort out.  Just a space deep in nature where you can let go of everyday concerns and rediscover lightness of body, ease of mind and the simple joy of being alive.
"No matter the level anyone was at, Mel was supportive, encouraging, motivating, funny and well, just lovely and very real. We had the opportunity to improve our practice; try different styles of yoga meditate twice daily; connect with nature and ourselves. It was so much more than yoga. Thanks Mel."— Maggie Murphy, August 2015
Everybody is welcome, regardless of experience, age, body-type etc.  The focus is not on achieving perfect postures but on being more comfortable in our skins and feeling more connected with ourselves, other people and the natural world.  
"It is a question, practically of relationship.  We must get back into relation, vivid and nourishing relation to the cosmos and the universe...For the truth is , we are perishing for lack of fulfillment of our greater needs, we are cut off from the great sources of our inward nourishment and renewal, sources which flow eternally in the universe."