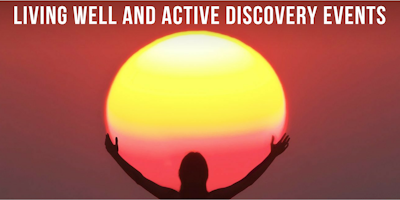 Terminó hace alrededor de 2 meses
21 de ago 17:30 - 21 de ago 19:45
This Living Well and Active Discovery Evening is a free, informative and supportive group event to help  people in Dorset recover and move on after cancer treatment.The event includes:
A warm welcome and refreshments.
Talks and advice offered by professionals to help you with your recovery and improve your potential to live well and active.
Inspiration, hints and tips from others who have already made changes in their lives for the better.
Introductions to a wide range of organisations and activities waiting to help you live well.
Opportunity for free post event 1-1 support to help you on your way to living well and active.
Discover...
Therapeutic Exercise Opportunities
Healthy Eating
Healthy Mind
Complimentary Therapies
Financial Advice
Mindfulness and Meditation
Cancer Support Groups
Walking for Health Groups
Healthy Homes Opportunities
Advocacy Support Services
1-1 Health Improvement Coaching 
Socialising Opportunities
Singing for Wellness
If you would like to join us, please register today and a member of our event team will contact you by email with more information and updates leading up to the event. If you have any questions, please do not hesitate to contact us. 
Best WishesLayneDiscovery Events Team Leader. Some reviews from previous events....
"Fantastic event - I loved seeing and talking to all the people reached by Living Well and Active"
 
 "I really enjoyed the day and am enjoying trying to remember the Tai Chi Movements each day. This morning I had a make up treatment at Boots which was offered last week, I spent a relaxing hour with Tracey making me look and feel years younger."
 
 "I thoroughly enjoyed the day & have tried to do the self meditation as have had some low thoughts it is definitely helping me."
 
 "Thank you for a informative day. Today I did 3 times the mindfulness and meditation and tomorrow will try swimming. I have not done for many many years. So for me this is the biggest step after having my treatment in january and only 14 days ago I had my last session of chemo to go out in the big wide world and go swimming. So thank you all.. if it wasn't for yesterday I would still be in a rut and would not have the courage to make a step."
  
 "I thought the day was amazing."
 
"Thank you for putting this day together. Having just recently completed my chemotherapy journey for Lymphoma, I am keen to regain my strength and energy levels. Attending your discovery day has helped by giving me ideas and motivation for eating healthier and returning to exercise. I have also signed up for mindfulness classes. Many Thanks to you,"
 
"The Living Well and Active Event was very useful for networking with other organisations and services which are all beneficial to the clients we meet to access.  We work with people to set goals that are important and provide support to them with breaking down barriers they are facing to achieve these.  Very often having the confidence is paramount to succeeding.The format was very entertaining and the various workshops and activities  an excellent introduction for people faced with living with long term health conditions to try out and hopefully encouraged to maintain in the future. I was able to take away  lots of ideas, resources and information to pass onto colleagues and clients to access and look forward to the next event."  
 
 "As a result of coming along to the Discovery Day  I have joined Pink Champagne! I went for a taster paddle and really enjoyed it. I have been for 4 paddles so far!" 
 "I really enjoyed the day. I have been singing every day and refusing to be shushed by the children and I feel happier for it as I love singing :)"
 
"Yes I attended Andrea meditation relation session and daily I plug in for 3 times a day and do a breathing meditation. This has helped me return to the moment, relax and actually know everything is going to be OK . In addition I joined the NHS tai chi class pioneered by bournemouth hospital and attend on the Tuesday I feel able to go."
  
" I am now walking to work three days out of four each week, which is an invigorating 35minutes each way, and have been using my pedometer I obtained from the day to monitor my daily steps.
 
I have also started a weekly yoga class for relaxation and to de stress. This is already helping me having a better quality sleep. I have also signed up for a mindfulness course, am awaiting details, but look forward to this in due course. I thoroughly enjoyed the university day, thank you for such an uplifting day. "