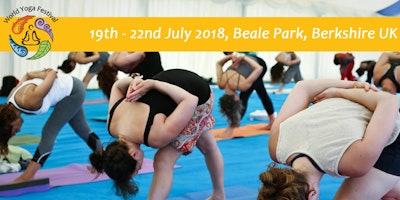 Terminó hace 10 meses
19 de jul 16:00 - 22 de jul 21:30
LEARN, REJUVENATE & ENJOY - Learn from true mastersThe largest, family-friendly yoga festival in the UK and now in its third year, World Yoga Festival takes place 19th-22nd July 2018 and brings together the most revered collection of teachers in traditional yoga, meditation and wisdom. Promising to be one-of-a-kind for yogis of all ages, abilities and disciplines, think somewhere between a retreat and a festival, with ample opportunity for reflection - a genuinely authentic yoga festival giving you the chance to get in touch with the real you!If you are seeking more than just exercise, if you wish to awaken through mindfully moving, breathing and monitoring your thoughts then this festival is for you. Learn to overcome the trance of day-to-day living by making whatever you think, say or do more meaningful. More in harmony with your natural state of being. Learn to live fully.The festival is also a time for great enjoyment. Dancing and music performances from world class performers will take you into a different realm of experience giving your mind a chance to rest and connect with the moment once more.100% vegetarian and alcohol-free. The is a retreat and a festival combined. The very best of vegetarian and vegan food without the need for alcohol makes this true nourishment for the soul as well as an opportunity to learn and be transformed through the timeless, authentic teachings.*NEW FOR 2018* Enjoy an extended festival with Early Access from 5pm on Thursday 19th July included for Full Festival Passholders as standard!
FAQs
What's the refund policy?
All tickets are strictly non-refundable.
Can I camp?
Yes, camping is included for Full Festival Passholders.
From what time can I arrive?
The festival site opens to the public at 5pm on Thursday 19th July 2018. Arrival before this time is not permitted. The festival site is completely closed between 10.30pm and 6.30am - please do not attempt to gain entry outside normal opening hours which are 6.30am and 10.30pm.
Can I bring my dog?
Animals are not permitted, except assiatance dogs.
How can I contact the organiser with any questions?
Please email contact@yogafestival.world with any questions.