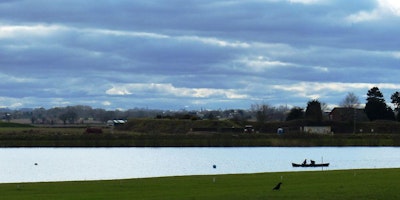 Terminó hace 6 meses
27 de abr 15:00 - 29 de abr 14:00
Welcome to the CMT Festival for 2018, a whole new take on your ideas of an Annual Conference!
Join us for an amazing weekend of learning, fun, activities and meeting new people.
The Venue
Whitemoor Lakes Activity Centre is near Lichfield in Staffordshire, just 15 minutes from the M6 Toll Road.  It's primarily an education and conference centre, on the edge of a lake.  Its facilities include several large conference rooms,  lots of breakout spaces, a large dining room, and a sports hall, plus facilities for lots of outdoor activities.
Accommodation is in rooms consisting of two single beds and a set of bunks - ideal for families.  Don't worry, if you're on your own, or just a two-some, we won't expect you to share!  All rooms are en-suite, the majority with baths with a shower over them.  Towels are not provided, so be prepared to bring your own bath and hand towels, along with your usual toiletries.  Bedding is all provided, but the rooms do not have TVs or tea/coffee making facilites.  All rooms are arranged as groups of Lodges, and each lodge has it owns lounge and kitchenette, where you can make yourslf  a drink whenever you wish.
Every lodge (and there are eight) has two accessible rooms with wet-floor showers.  These will be allocated primarily to wheelchair users.  The centre does have a number of shower stools, grab rails and other accessibility equipment should you require it (we will be clarifying exactly what they have in the next couple of months).
The other point you need to know is that the venue is strictly a "no alcohol" zone - there is no bar!  But there are pubs nearby if you feel like sneaking out for a pint!
The whole venue is completely flat and accessible.
The Festival
We decided to call the event a "Festival", because it will consist of lots of different things happening all at once!  Like music festivals, with different stages, there will be different rooms, hosting different topics and talks all at the same time, and you can choose where you go, what you do and how long for!
Friday
The event will start on Friday afternoon.  Arrive any time after 4pm, for registration.  A "getting to know" session will be held in the Gilmour Hall, the largest conference room, before dinner in the Dining Room at 6pm.  We are paying extra to give you plenty of choice.  Meals are "help yourself" but we will try to make sure that there are helpers on hand to help you with plates etc.  We will be able to publish details of menus nearer the time.
After Dinner, we will hold the AGM, and get it out of the way!  Afterwards, you will be free to chill out, recover from your journey, and meet up with friends, and make new ones!  Day delegates are welome to stay for the evening meal if you wish - it's all included in the price.
Saturday
Registration for day delegates will open at 9am - yes, you will be able to attend just for the day if you prefer!
In the Gilmour Hall, we will have our usual lectures, as per normal Conferences.  Professor Mary Reilly, Consultant Neurologist at the MRC Centre for Neuromuscular Disease, and our Patron, will be there as usual.  Mr Dishan Singh, Consultant Orthopaedic Surgeon from the Royal National Orthopaedic Hospital is also confirmed.
But, at the same time, in the Derby Hall, we will have our "exercise zone" with opportunities to hear from physiotherapists (hopefully Gita Ramdharry, to be confirmed) and try lots of different exercises - pilates,  possibly Tai-Chi, accessible dance - all to get you up and moving!
Other workshops will also be running in the various breakout rooms - topics are still being developed, but one room will be a "chill out" space, for just sitting and relaxing, perhaps with foot massage available, another will be dedicated to discussing emotional and psychological issues (we need to source a facilitator for this though), another will be for youth related issues - schools, bullying.  Yet another for shoes and orthotics.  the exact programme will be published in due course, but you get the idea - lots of things happening.
You will be free to wander in and out of any of these as you wish.  All rooms have tea/coffee making facilities, so help yourself to refreshments whenever you like.
But perhaps these are still a bit too sedentary for you?
Well, what about learning to sail, trying your hand at abseiling, archery, canoeing or team-building games?  The centre is an accredited activity centre and you can book 1 1/2 hour sessions in any of these.  There will be one session on Saturday morning, another Saturday afternoon, and the final session on Sunday morning.  These activities are in small groups of 12, with a number of different options for you to choose from.  At this stage, we still need to confirm that we can actually offer all these things at the same time with the centre, so if you indicate in the questions at the end that you are interested in booking activities, we can send you a separate booking form once it's all confirmed.  There will be a small extra charge per session, to cover some of our additional costs in offering these to you.
Lunch will be between 1pm and 2.30 in the dining room, giving you lots of time to chat and socialise and Dinner, back in the dining room at 7pm.
After dinner we will organising various activities - probably a quiz night, but if that's not your cup of tea, perhaps watching a film, or indulging in a high stakes game of Monopoly?!! 
Sunday
Sunday will follow  the same basic plan - speakers in the Gilmour Hall, exercise in the Derby Hall, and more workshops and activities.
We finish with lunch at 1pm.
All rooms must be vacated by 3pm.  Perhaps you'd like to finish the weekend with a walk or ride (there are scooters available) with afternoon tea, around the National Memorial Arboretum which is literally next door to Whitemoor Lakes.
Breakfast, of course, is included for all people staying over.
The Creche - as always, we will be having a space dedicated to caring for your children, and will be providing activities and entertainment to keep them amused, manned, of course, by DBS checked, qualified staff and volunteers.  But the weekend is all about family and fun, so if they prefer not to stay there, they are welcome to stay with you, try activities (under 16s must be accompanied by a parent on any activities) or generally chill out.
It's also a great opportunity for your young people and teenagers to try some of the activities that usually feature in our CMT Kids weekends!  If they've been a bit hesitant about going along, and worry about climbing a wall, they can try it out here, probably cheered on by some of the CMT Kids team, and gain the confidence to join a weekend event another time.
What we're hoping to achieve is that there is something for everyone, of all ages, to enjoy at our Festival.  Not only will it be informative and helpful to you along your journey with CMT, but it will also be fun, relaxing and a great place to meet old friends, and make some new ones.  And importantly, hopefully at a cost, everyone can afford.
BOOKINGS WILL CLOSE ON 31st MARCH AND NO BOOKING WILL BE ACCEPTED AFTER THIS DATE!
DAY DELEGATES:
If you are making your own arrangements for accommodation in the area, and would still like to join us for Saturday and Sunday, please book a ticket for BOTH days.  Obviously, if you only want to attend on Saturday, please just buy a ticket for Saturday!
PAYMENT:  If you DON'T HAVE A PAYPAL ACCOUNT, please ring the office, and we can take your booking by phone or send a cheque to the usual address.
If you would like to spread the cost over the coming months, just select the option to pay a deposit of £20 per person, and we will email you with a booking form to collect the specific details with a direct debit mandate, and the remaining balance can be split across the months leading up to the event, with the final balance to be paid by in full by March.
REFUNDS:   We will be confirming final numbers to the centre at the beginning of April.   Before this point, we are happy to refund your payments, less an admin fee of £15 per adult booking.  After 1st April, NO refunds will be possible for any reason.