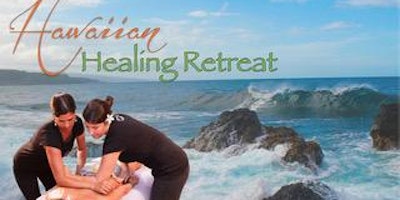 Terminó hace 10 meses
13 de jul 07:00 - 20 de jul 16:00
Lomi Lomi is authentic Hawaiian healing for body, mind and spirit. 
In ancient times, Lomi Lomi was family work, used to keep everyone in the home healthy and strong. Ho'omana's style of lomi comes from the therapeutic approach of the 6 lineages of Hawaiian elders Kumu Jeana Iwalani Naluai had the privilege of studying with. 
Ho'omana Lomi Lomi trainings are for anyone who wants to learn to access their own healing legacy that can serve your family, community and the world.
Previous bodywork is not necessary. 
Ho'omana Lomi Lomi Training is an educational center, sharing the Hawaiian healing art form of Lomi Lomi massage and spiritual teachings of Aloha with those who are ready to find and embrace their own healing gifts. Our Kumu, Jeana Iwalani Naluai, is a native Hawaiian cultural practitioner. Meet her on YouTube.
Ho'omana's Hawaiian Healing Retreat - Spain is for those who want to explore authentic Hawaiian Healing and then dive deeper.  Learn the full-body art form of Lomi Lomi massage and how to approach bodywork from an ancient Hawaiian perspective. In Advanced Lomi Lomi, students are taught the system developed by kupuna, elders, called the  "Wisdom of the Bones".  Learn to see beyond physical pain and navigate the emotional or spiritual components using this powerful perspective.  Hold a greater level of sacred space of healing space for others with the tools gained in this 9-day retreat.
Additional costs include housing, food and transportation.
64 CE Hours
Hawaiian Healing Retreat - SPAIN includes:
      Hawaiian Lomi Lomi Fundamental Training, July 13-16, 2018. 32 CE Hours. €600
      (Ho'omana's core introductory training is the foundation and pre-requisite for all courses.)
      Hapai Lomi: Hawaiian Massage for Pregnancy and Seated Techniques July 18-20, 2018. 24  CE hours. € 450
Ancient Hawaiians believed that your mana, or spiritual life force, is held within your bones.
In Hawaiian Healing Retreat - Spain, we begin our journey by warming and opening the musculo-skeletal system using methods covered in Hawaiian Lomi Lomi Fundamental Training. This approach follows in the lineage of Big Island Style Lomi, intended to instill a level of skill necessary for proper assessment, palpation, and treatment of injury. Hawaiian Lomi Lomi Fundamental Training is a multi-dimensional form of structural Lomi Lomi, incorporating concepts of Hawaiian spirituality, Ho'oponopono, meditation techniques, and indigenous values addressing the whole person.
Hawaiian Pregnancy Massage and Seated Techniques: Learn pregnancy massage techniques in a side lying position. Hold space for women who wish to conceive, pregnant women, and post natal care focusing on bringing the bones back together. 
Seated Lomi techniques - our foundational teachings, translated into a seated position - will give you a way to work on anyone, anywhere, anytime as long as you have a chair.
All Lomi Lomi courses are taught by Jeana Iwalani Naluai, MPT, LMT and her team of lomi lomi specialists.
Through talk-story, demonstration and hands-on practice, students will experience this foundational learning in a rich way. Our instructor's knowledge is passed down through a long lineage of master practitioners. The various Hawaiian healing courses provide a learning environment with extensive and effective lomi lomi techniques, the Hawaiian philosophy of Ho'oponopono, meditation and chant.
Ho'omana Spa Maui is dedicated to the development of each student's mind, body and spirit while ensuring a supportive and quality learning experience that inspires transformation. 
FAQs 
What are my transport/parking options getting to the event?
C. de Sardenya, 261-263
District:
Eixample
Neighborhood:
The Holy Family
Postal district:
08013
Where can I contact the organizer with any questions?
It is our pleasure to schedule a call to answer any and all of your questions.  Send an email to classes@lomimassage.com and we will get right back to you!
After March 1, for accommodation, location or transit information please contact:
Rosa Fernandez
aloha@lomilomi.es
Tel: 34659560157
What is the refund policy?
If for any reason you need to cancel, a 15% of workshop fees will be charged and the remaining portion fully refunded.  Cancellation 30 days before instruction begins, 50% will be refunded or charged.  There is limited space in each class to nurture individualized instruction.
Is food included in my retreat?
Students are responsible for providing their own meals and snacks during class.  
What about accommodations?
Accommodations are not included in the retreat.  You will search for hotel near the classroom venue:
C. de Sardenya, 261-263
District:
Eixample
Neighborhood:
The Holy Family
Postal district:
08013
I've taken Lomi Lomi workshops before, do I still need to take the required pre-requisite - Hawaiian Lomi Lomi Fundamental Training? 
Ho'omana's Lomi Lomi sources from the lineage of the Big Island. This Lomi Lomi comes from lineage holder Auntie Margaret Machado who has now passed on. The idea behind this Lomi style then is to bring the persons spirit, mindset and bones back into alignment, the practice is known as Ho'onohoiwi (bone movers) and is advanced in comparison to most level one trainings available. Our intention is to connect with the individual down to the level of the bones and is very specific and therapeutic work.  
Because of the process of this style of Lomi, the courses are incremental; therefore students need to take our entry level course, otherwise student may be lost or injure themselves or patient. 
When Lomi is a path that you are passionate about, no training will be wasted but will serve the greater understanding of the practice as a whole. Because you have learned in another lineage, it will assist you with a more rapid integration beginning with our Hawaiian Lomi Lomi Fundamental Training.
We would be honored for you to join our courses, and the pre-requisite of Hawaiian Lomi Lomi Fundamental Training is required.
Can I take courses individually?
Yes. Courses can be taken individually, but keep in mind that Fundamentals is a pre-requisite course for every Ho'omana Lomi Lomi training. To request registration for single courses, please email classes@lomimassage.com.
Will I receive a certificate for my course?
After each course is completed, students receive a formal and certified certificate with the Nationally Approved Provider verification information for continuing education units. Currently, we are certified with:
National Certification Board for Therapeutic Massage and Bodywork: http://www.ncbtmb.org/
Massage Therapy Association of Alberta: www.mtaalberta.com
Remedial Massage Therapy Association: http://rmta.ca/
National Health Practitioners of Canada: www.nhpcanada.org
Ho'omana is committed to expanding our network of accreditation. If there is an organization you would like us to contact, please ask.