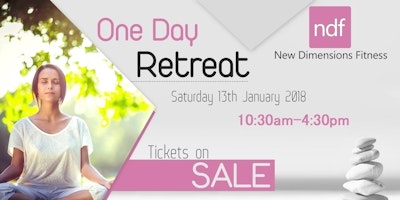 Terminó hace 9 meses
13 de ene 10:30 - 13 de ene 16:30
Experience a huge, positive boost to your wellness and fitness goals with our carefully crafted line-up of revitalisation and renewal activities at this one-day retreat taster event.
You'll gain insight into Pilates, Yoga, Meditation, Body Confidence, Personal Development and also learn more about nutrition and eating quailty food rather than low calorie chemicals.
This perfectly healthy one-day retreat will feature the following highlights:
Welcome drink
Introduction and guided meditation with Sharon Morrow
Special guest Cassie Farren, Author of 'The Girl Who Refused to Quit' 'Rule Your World'
Express Pilates for alignment and posture
Delicious, wholesome lunch
Filomena Fontana - Overcoming barriers
Sheena Shah NLP Practitioner - Setting goals
Speedy Smashing Smoothie demonstration 
Candlelit Pilates and relaxation with Sharon Morrow
Goodie bag and farewell 
Helping you make 2018 your year of success!