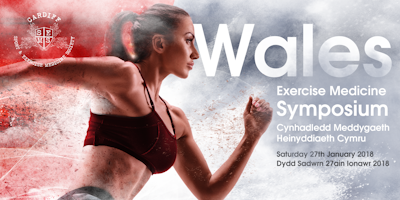 Terminó hace 9 meses
27 de ene 08:30 - 27 de ene 17:00

Wales Exercise Medicine Symposium 2018
Tickets are now on sale for the Wales Exercise Medicine symposium on January 27th 2018 for only £20.00+ VAT!
Who should attend?
The day is designed for exercise professionals, doctors, physiotherapists, sport and exercise scientists, sport and exercise medicine practitioners, students in the aforementioned fields and anyone working within the exercise industry.
We are applying for CPD points from the Royal College of Physicians, the Faculty of Sports and Exercise Medicine REPs and the Royal College Of General Practioneers.
Delegates will be educated and inspired about the latest developments in Physical Activity for Health. The aim of the conference is to promote Exercise as Medicine and to highlight the importance of Physical Activity across a range of areas. 
What will I get out of the symposium?
We hope that by attending the symposium you will gain extra knowledge about the power of Physical Activity within your everyday practise, with expert speakers talking about Obesity, Sedentary Behaviour, Diet, Sarcopenia, Black & Ethinic Minority Groups, Women Health & Paediatric health and more. We also have 2 afternoon seminar streams which will inform and aid you in your practise.
Programme Outline:
08:40 to 09:20 Arrival, registration, coffee & refreshments
09:25 to 12:50 Morning plenary sessions
13:40 to 15:00 Afternoon plenary sessions
15:00 to 17:00 Afternoon stream sessions
16:40 Symposium conclusion and collection of attendance certificates 
Morning session (Chaired by Professor Gareth Stratton & Mr Daniel Phillips)
08:30 – Registration (Tea, Coffee and snacks – Sponsors display)
09:15 – Welcome Talk Organisers
09:25 - Dr Paul D Jackson - President of the Faculty of Sports & Exericse Medicine.
10:00 – Dr Peter Brukner -  Specialist sports and exercise physician and the founding partner at the Olympic Park Sports Medicine Centre in Melbourne. Peter is a world renowned sports medicine clinician and researcher. He has recently been Head of Sports Medicine and Sports Science at Liverpool Football Club and is currently Team Doctor for the Australian cricket team.
10:40 – Dr Aseem Malholtra - "You can't outrun a bad diet"
 Aseem supports studies that implicate sugar as the number one culprit driving obesity, type 2 diabetes and heart disease, and has worked with a leading sports scientist to dispel the myth that links physical inactivity and obesity. The British Journal of Sports Medicine published their editorial providing evidence that sugar and excess carbohydrates were primarily responsible for the global surge in type 2 diabetes and obesity.
Refreshments ( 11:20 - 11:40)
11:45 – Dr Brendan Egan - "Muscling in in healthy ageing"
Brendan holds a position as Senior Lecturer in Sport and Exercise Physiology in the School of Health and Human Performance at Dublin City University. His current research investigates the molecular regulation of skeletal muscle function and adaptation across the life course, with special interest in the synergy between nutrition and exercise interventions to optimise performance in athletes and elderly.
12:25 – Professor Dylan Thompson - Using Technology to Measure and Promote Physical Activity 
My research interests include physical activity, diet, adipose tissue, chronic inflammation and chronic disease. One strand of my research seeks to understand the mechanisms through which regular physical activity and diet maintain health. A second strand seeks to capitalise on technological innovation to help people make positive changes to their behaviour and thus reduce the risk of chronic disease.
Lunch (13:00-13:40)
Afternoon Plenary Session
13:45 - Dr Melrose Stewart - "Promoting Physical Activity in Older adults and BME Groups"
Melrose Stewart is a lecturer, Senior Welfare Tutor, Senior Tutor, Physiotherapy Quality Lead and Fitness to Practise Lead in the School of Sports, Exercise and Rehabilitation Sciences. She is also a Vice President of the Chartered Society of Physiotherapy. Her recent and most ambitious project was her expert role in the remarkably successful Channel 4 television programme, 'Old people's Home for 4 year Olds' in August 2017.
14:25 – Dr Andy Franklyn-Miller - Don't Mention Pilates... Why Deadlifts Are The Answer To Low Back Pain
Dr Andy Franklyn-Miller completed his medical training at Imperial College, London in 1998 before joining the Royal Navy and serving with the Royal Marines. He commenced surgical training but transferred to Sports Medicine and trained in the UK and Australia as the Royal Navy's Consultant in Sport And Exercise Medicine. His final post before leaving the Military was as Head of Research and Director of the Centre for Human Performance, Sports Medicine and Rehabilitation at The Defence Medical Rehabilitation Centre Headley Court. 
 
Afternoon Stream Sessions:
Womens Health: 15:00 - 17:00
Dr Victoria Meah (15:00 - 15:35) - My main research areas are female physiology and exercise science, specifically, my interest lies within physical activity during and after pregnancy. My current research investigates the acute responses of a pregnant woman to resistance and aerobic exercise, with a particular focus on the adaptation to the maternal cardiovascular system. 
Dr Nicky Keay (15:35 - 16:10) -  Female Athlete During Lifespan
My approach integrates all aspects of my professional clinical experience with my medical research expertise in Endocrinology and Sport and Exercise Medicine.
Dr Millicient Stone (16:10 - 16:45) - Dr Stone is a Consultant Rheumatologist.  She trained in Ireland and Canada.  She worked as a Consultant in Toronto, Canada for several years before returning to work in the UK as a Consultant. 
Paediatric Stream: 15:00 - 17:00
Dr Rhodri Lloyd (15:00 - 15:35) - Rhodri is currently a Senior Lecturer in Strength and Conditioning at Cardiff Metropolitan University. He also holds a research associate position with Auckland University of Technology and is a research fellow for Waikato Institute of Technology. His research interests surround the impact of growth and maturation on long-term athletic development and the neuromuscular mechanisms underpinning resistance training adaptations in youth.
Mrs Clare Carpenter (15:35 - 16:10) - Consultant Paediatric Orthopaedic Surgeon at the University Hospital of Wales, Cardiff. Dr Carpenter has a keen interest in teaching and has been involved in various academic activities both for undergraduate and postgraduate students.
Dr Liba Sheeran (16:10 - 16:45) - My research work has strong focus on assessment, prevention and management of chronic musculoskeletal conditions including spinal and pelvic pain disorders, occupational back pain and sports-related overuse spinal and lower limb injuries. My work emphasis is on exploring mechanisms underlying the development and perpetuation of chronic musculoskeletal conditions with an aim to develop new directions for rehabilitation and prevention strategies.
North Wales Exercise Medicine Stream: 15:00 - 17:00
Dr. Jamie Macdonald & Dr. Jennifer CooneyTitle: Exercise is medicine in chronic kidney disease: state of the art and implications for general promotion of physical activity and health. Dr. Aamer SandooTitle: Exercise is medicine in autoimmune disease: state of the art and implications for general promotion of physical activity and health. Dr. Becki Law (and TBC: Prof. Nefyn Williams)Title: Exercise is medicine in primary care: state of the art and implications for promoting physical activity as part of routine chronic disease management.