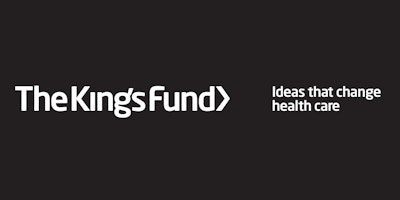 Terminó hace 8 meses
07 de mar 08:00 - 07 de mar 17:00
About this event
This event is designed for anyone working in the NHS, public, private and third sector who would like to gain a greater understanding of how the health and care system currently works and how it is changing.
Join us for an informal day of learning and networking and find out the answers to questions you've always been afraid to ask.
What will you learn?
You'll hear from The King's Fund's policy and leadership experts, as well as professionals working in health and care about:
how the system works: how it is structured and how money flows
health beyond the NHS: population health and housing
NHS reforms: the move towards sustainability and transformation partnerships and accountable care
what to do when the NHS says 'no' to your idea
the future challenges and opportunities facing the system.
FAQs
Can I pay by invoice? 
Yes. Please select your tickets and once you're through to the registration form, you can amend the 'payment method' from credit card to 'pay by invoice' .
Please note, there is a £20 surcharge to cover the cost of processing invoices. This is an addition to the ticket price and will be added to your invoice. There is no charge for paying by debit or credit card.
What discounts are available?
For the full list of discounts, please click here.
What's the refund policy?
Cancellations confirmed in writing more than 14 days before the event will be refunded in full. We regret that no refund can be made after that date. However, tickets are transferable. Please email us at events@kingsfund.org.uk or call us on 020 7307 2409 to cancel or transfer your ticket.   
Contact us
For more information about this event, please visit www.kingsfund.org.uk/events, email events@kingsfund.org.uk or call us on 020 7307 2409.