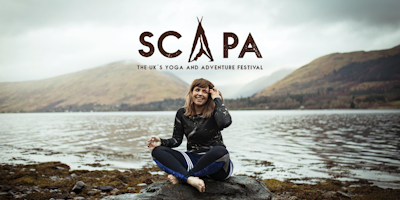 Terminó hace 8 meses
04 de may 11:00 - 07 de may 09:00
What could possibly be better than a full weekend of amazing yoga flows, mindful walks & hikes, bushcraft & foraging skills, constellation exploration, gatherings by the loch, and plenty of life-changing experiences?
Bringing together several traditions of yoga, outstanding adventure instructors & performers, a Food from Argyll experience, and a mind-opening Yoga off the Mat speakers series, Scapa Fest provides a one-a-kind immersive experience for all mind-body-nature explorers.Over 20 experts leading 130+ workshops, talks & performances inspired by the natural world for all ages and levels.
3 days of all-encompassing Yoga and Adventure lifestyle, in one of the world's most beautiful location.
A unique Sunrise to Sunset mind-body-nature connection experience.
Full lineup and schedule: https://scapafest.com/
TICKET INFORMATION
All ticket types are available in a limited quantity. 
All sales are final. Event is rain or shine. Advertised workshop instructors, speakers and artists are confirmed at this time but are subject to change. By purchasing this ticket you accept the terms and conditions.