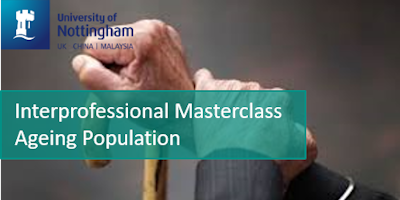 Terminó hace 11 meses
28 de feb 17:00 - 28 de feb 20:00
The Faculty of Medicine and Health Sciences is committed to working in partnership with students to offer "an outstanding broad-based international education to talented students" (Global Strategy 2020). This is exemplified by the initiative to develop a series of evening workshop masterclasses that unite UG and PG across all programmes to explore common themes.
Join us for the on Wednesday 28th February focusing on the increasingly relevant topic of Ageing Population with talks from experts across the faculty.
Schedule of speakers
5:00-5:30              Registration
5:30- 5:50             Dr. Maria Toledo-Rodriguez, Life Sciences, Impact of Ageing on the Brain, and Exercise on Ageing Healthily5:50-6:10              Lisa Patrick, PhD Researcher and Occupational Therapist, Ageing, Independence and Rehabilitation
6:10-6:30              Clinical Assoc. Professor Adam Gordon, Medicine
6:30-6:40              Q&A
6:40-7:00              Food & Networking
7:00-7:20              Prof. Paul Greenhaff, Life Sciences, Age-Related Loss of Muscle Mass and Quality: Healthspan is just as important as lifespan
7:20-7:40             Dr. Lisa Chakrabarti, Leader of Age Related Disease Research Group, Unravelling the link between metabolic energy and ageing
7:40-8:00             Dr. Fiona Moffatt, Physiotherapy, Exercise and Ageing
8:00-close            Q&A, Coffee & Networking
All are invited to attend, and we encourage everyone to continue the discussion afterwards over refreshments.