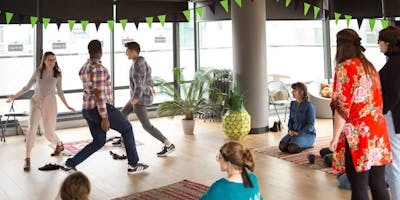 Terminó hace 11 meses
14 de jun 17:00 - 14 de jun 20:00
The head is master of the body, right? We overlook the potential of the body to contribute to our lives, our work, our creative practice, our sense of wellness. As the pace of our lives grows faster and faster, for many of us, the body becomes simply the fleshy vehicle which takes our head from place to place.
We propose a new assumption: it's not all about the head, it's about the whole. What if we rememberd our body more often in our daily lives? How might this help us think with more clarity, widen our imagination, makes us feel content, alive and connected?
In this session the movements of the everyday will become our inspiration. We'll take you through a series of short tasters, activities and experiments that will infuse your old physical habits with newness and non-sense. We'll use our material to put together a group montage or performance.
What you'll get from it:
A bunch of ideas to play with
Tools to rewild yourself without leaving the city
A recording of the group work to take home and share
- 
Zahra Davidson and Roxana Bacian co-founded Enrol Yourself in 2016, a social enterprise set up to reimagine lifelong learning through the power of peer groups. Since then Roxana has been working with groups and individuals to develop creative sessions and activities that boost their physical imagination. She designs movement sessions that propose a move from a solely cognitive-based model of community and project development towards one that allows for nonsense and mystery through using dance, poetry, sound and visual imagery. Zahra is Director of Enrol Yourself. She is a certified coach and a designer by background. She is interested in the role of learning in reaching for sustainability, the intersection between design and learning experiences, and a holistic approach to learning and development that includes the physical body as well as the mind.
-
This event is part of the Antiuniversity Now festival 9-15 June 2018 See the full programme on www.antiuniversity.org. By signing up to this event you will be added to the Antiuniversity mailing list. To opt out please email antiuniversitynow@gmail.com.