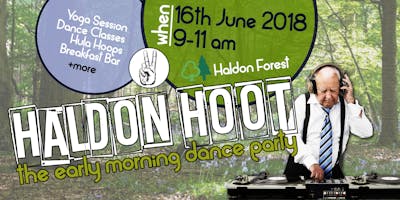 Terminó hace 11 meses
16 de jun 08:00 - 16 de jun 10:00
Welcome the weekend and kick start your day with a 'Hoot' at Haldon Forest's first ever early morning dance party. We've kitted out the forest with feel good activities and sessions to help you shake away those week day woos! We have dance classes to get you, your kids, your husband, your wife and even your nan moving. Our breakfast bar will be pouring teas & coffee and will be serving yummy early morning treats! A free transformation station will be on site for any of your glitter, ribbons, sparkles and radical requests. Local DJs will keep the vibes flowing - expect everything from Hip-Hop, Funk, Disco and Summer startup tunes!
For those even earlier risers and stretchers… We have an additional Yoga hour available from 8-9am to help you get prepared for the fun.
 
Brought to you by our Haldon Heroes and in conjunction with R.O, a local charity who use the outdoors to teach and share good practise for keeping your physical and mental health "tickety-boo". 50% of all profits from the event will go towards Changing Horizon's work.
So… What are you waiting for? It's going to be a Hoooooooooooooot!
DRESS CODE:
Anything your heart desires; rainbows, glitter, your fitness gear, your lucky pants, your pjs… Whatever you wear, be comfortable and prepared for maximum dancing.
ARRIVAL:
Anytime from 9am. Event finishes at 11am.
 
TICKETS:
Adult, Child and Family tickets. Early Bird Tickets available - be quick!
Children are aged 5-12yrs old. Over 12s must purchase an Adult Ticket. Under 5s go free, however they must wear ear defenders
WHO:
R.O: The events 'wing' of Changing Horizons (Registered UK Charity #1146667 - www.mindfulaid.org)
DIRECTIONS:
How to find Haldon Forest: The venue postcode is EX6 7XR. Travelling from the A38 turn off at the exit for Exeter Racecourse (there are no slips roads for this turning). Make sure you look out for the Haldon blue banners directing you to the car park. Please do not take the first entrance labelled "Office Car Park". Parking charges apply; up to 2 hours £4, 2-4 hours £5, all day £7. For further information about Haldon Forest please visit www.forestry.gov.uk/haldonforestpark
END MESSAGE:"It's Okay to not feel Okay... whats's not Okay is to suffer in silence" The best thing you can do is talk to someone.