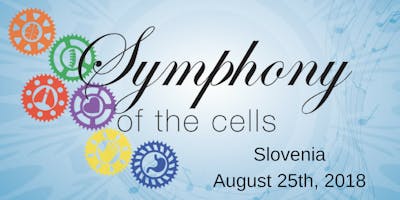 Terminó hace 8 meses
25 de ago 08:00 - 25 de ago 15:00
DESCRIPTION
We invite you to join us on August 25th in Slovenia! Come learn about Symphony of the Cells and its benefits and get hands on training! We receive hundreds of requests each year for this training, so please secure your spot as early as possible! 
History:
Symphony of the Cells™ was created by Boyd Truman as a method of helping people understand that the body needs to be balanced in harmony physically, emotionally and spiritually. Each hands on Symphony of the Cells™ protocol will help aid in the understanding of the natural progression of the origins of illness, the systems of the body and how they relate, and the understanding of the power of essential oils and other natural nutrients and modalities that will help guide you in your wellness journey. For those interested, we also offer 6 CE credits with the NCBTMB for attending this course. For more information, please visit www.symphonyofthecells.com.
When: 
Wednesday, August 25th - 10am to 5pm  
Doors/Registration will open promptly at 9:30am. Please check in no later than 9:45am. 
Where: 
Hotel Lev
1 Vošnjakova ulica, Ljubljana 
Price:
Early Registration (thru August 18th) - $199
Standard Registration (August 19-25th) - $225
Each attendee will receive: 
Symphony of the Cells™ booklet
All oils needed to practice the protocols during the training. No need to bring your own! **You will not receive any "take home" oils.
Meals:
Each attendee will be responsible for his/ her own meal during the designated lunch break. Water is permitted. For any questions regarding meals during the event, please send an email to: contact@symphonyofthecells.com.
FAQs
There is plenty of on-site parking that is free for all attendees.
Can I earn CE credits for massage therapy by attending this training?
YES!  Symphony of the Cells™ is an approved course with the NCBTMB! You can earn 6 CE credits simply for completing this training. If you are interested in obtaining these credits, simply email contact@symphonyofthecells.com after completing your training. We will mail you your certificate and you will be able to submit that to earn your credits. For more information regarding this, please contact us. 
What can/can't I bring to the event?
Please feel free to bring a notepad & writing utensil; we highly encourage you take notes! Please refrain from bringing any outside food or beverage (with the exception of water or if you have a severe, life threatening food allergy) as it is prohibited by the venue. We will have a water station available and will provide ample time for a meal break.
Do I need to bring my own Massage Table?
No, all massage tables needed for the training will be provided. However, if you are more comfortable practicing on your own, you are welcome to bring it. 
Do I need to dress in specific attire?
The Symphony trainings are a casual event! Please come in comfortable attire. Robes and changing areas will be provided for those who would like to participate in the hands-on portion of the training.
Does everyone get the opportunity to participate in the hands on training?
During the training, Boyd will ask for volunteers for receive a protocol as he is teaching. We will then open the floor for about 10-15 minutes for volunteers to come up and either receive/give a protocol. For those who are not able to participate during the training (due to a limited number of massage tables, robes, etc.), you will be given the opportunity during the breaks, dinner break and after the training to use the massage tables to receive/give a training. You are NOT required to participate in the hands on training. 
Can I bring my children?
Nursing Infant: can attend with mother. No special permission required.
Toddler to 14 years old: Must request permission from the event coordinator for special cases. We kindly ask that you do not bring your children due to complaints from other attendees.
How can I contact the organizer with any questions?
If you have any questions regarding the training, please contact us anytime at contact@symphonyofthecells.com or by phone at 8016071309. 
Do I have to bring my printed ticket to the event?
You do not need to bring your printed ticket to the event. 
What is the refund policy?
You may request a refund of your ticket purchase up to 2 weeks (14 days) before the scheduled training. Any refunds requested within 2 weeks of the training will be refunded 50% of the ticket cost. Any refunds requested within 1 week of the training will NOT be refunded. Symphony of the Cells reserves the right to cancel the event for any reason. If your event is cancelled, you will be informed via email or phone as soon as possible. In the event of a cancellation, you will be fully refunded within 30 days. Your refund method will be based on your original method of payment. 
*All information in this event is copyrighted and CANNOT be recorded or reproduced online in any form. By attending this event you agree you will not record or reproduce any of the event content online (Live streaming, videos recordings, photos, sharing descriptions of protocols online, or recreating content of any kind online). Any breech of this agreement will be classified as copyright infringement and you may be held liable. (Photos are permitted for personal use only and not to be used online in any form.)
By attending this event you agree to the terms above.