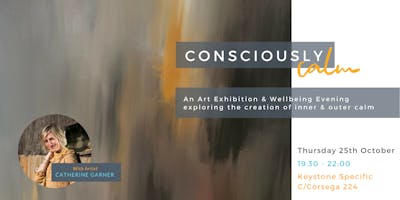 Terminó hace 10 meses
25 de oct 17:30 - 25 de oct 20:00
Join us for an Art Exhibition and Wellbeing Evening exploring the creation of inner and outer calm.
As the world becomes more frenetic, demanding more and more of our attention, it becomes increasingly hard for us to restore our inner and outer calm: As the calm state is necessary for good health and healing we need to be asking ourselves: 
How can we create the space we need for ourselves?
Are our minds and bodies a product of our environment or of our thinking? 
What will we find when we pause long enough to find out?
Artist Catherine Garner will be presenting her Calm Artwork series and practice while Dr. Sophie Anderson will be demonstrating real-time personal nerve system function testing, showing you exactly how your body is responding to your current lifestyle and sharing practical tips on how we can all restore our calm for a happier life.
ARTIST: Catherine Garner
Having spent nearly two decades exploring the art of consciousness & meditation and how they influence our health, Catherine's softly blended abstract Artwork reflects the ever-changing inner landscapes we create when we pause from our thinking mind to observe and allow our innate inner wisdom to take over. 
Drawing on her fascination with the calming effects of pattern and repetition, her most recent works explore the creation of creating without thinking and how the process of interpretation can become in itself a healing moment.